Bach, Kristina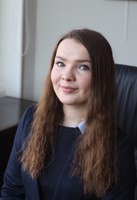 Kristina Izmailova, M.Sc.
Chair of Remote Sensing and Landscape Information Systems
University of FreiburgAddress: Tennenbacherstr. 4, D-79106 Freiburg, Germany
kristina.izmailova@felis.uni-freiburg.de
Function at the chair
 Research work for the RES-TMO project
 Administrative work for the SuMo project
Education
2012 – 2015 Master of Science in Forest Sciences, Albert-Ludwigs-University Freiburg
2007 – 2012 Bachelor of Science in Natural Sciences (Ecology), Kazan Federal University
Projects
SuMo-Rhine: Promotion of Sustainable Mobility in the Upper Rhine Region (INTERREG V  Oberrhein)
RES-TMO: Concepts for an Integrated, Efficient and Sustainable Energy Supply and Storage in the Upper Rhine Region (INTERREG V Oberrhein)
Publications (Project related)
Gavrilut, I., Izmailova, K., Koch, B. (2019). Regional concepts for an integrated, efficient and sustainable energy supply and storage in the Trinational Metropolitan Region Oberrhein. In P. Hamman & S. Vuilleumier (Eds.), Sustainability Research in the Upper Rhine Region (pp. 163 – 177). Presses Universitaires de Strasbourg.