Awards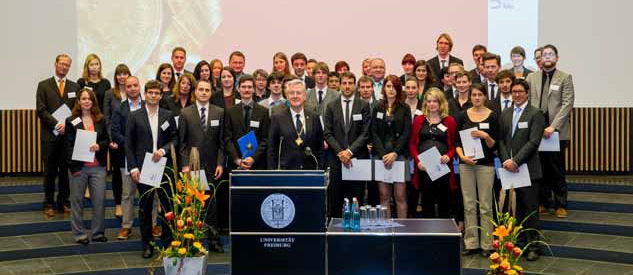 Honors, prices and awards of coworkers of our chair:
 Year
 Topic
2016

 

Prof. Dr. Barbara Koch, Sebastian Brackhane, Joachim Maack, Manuel Saroos (FELIS), Prof. Dr. Sebastian Brather, Dr.Helmut Saurer and Dr. Hiltrud Müller-Sigmund are recipients of the Instructional Development Award (IDA) 2017

2014

 

Sebastian Brackhane (FeLIS) und Mirko Mälicke (Hydrolgie) receive Karl-Steinbuch-Stipendium for their project "Locomotif" (Local Community Monitoring and Terrestrial Information Facilitation)

2013

 

Teja Johannes Kattenborn, Fabian Enßle und Andreas Fritz receive Karl-Steinbuch-Stipendium

 2013

 

The Geowiki-Team with C. Schill from FELIS together with scientists from JRC and IIASA are recipients of the 2nd prize of "Remote Sensing Best Paper Award 2013" in the Article papers group for their paper
Steffen Fritz, Ian McCallum, Christian Schill, Christoph Perger, Roland Grillmayer, Frédéric Achard, Florian Kraxner and Michael Obersteiner
Geo-Wiki.Org: The Use of Crowdsourcing to Improve Global Land Cover
Remote Sens. 2009, 1(3), 345-354; doi:10.3390/rs1030345
Available online: http://www.mdpi.com/2072-4292/1/3/345

 2012

 

Barbara Koch ist "Übermorgenmacherin"; Prof. Dr. Koch received the innovation award  "Übermorgenmacher" from the state of Baden-Württemberg and the Südwestrundfunk (SWR - Southwest German Radio) for her project "Airborn Laserscanning of  Preserve Areas"

 2009

 

Eva Ivits, Alistair Lamb, Filip Langar, Scott Hemphill, and Barbara Koch are 2nd place recipients of the 2009 ERDAS Award for Best Scientific Paper in Remote Sensing
ASPRS 2009 Annual Conference in Baltimore, Maryland, US 

 2008

 

Yunsheng Wang is among the 26 Chinese students in Germany that won the CHINESE GOVERNMENT AWARD FOR OUTSTANDING SELF-FINANCED STUDENTS ABROAD in 2008. Congratulations! 

 2008

 

Y. Wang, K. Sterenczak, H. Weinacker, B. Koch have received this best paper award at the 2008 ISPRS conference in Beijing, China 

 2007

 

C. Schill, J. Bogdahn, V. Coors & B. Koch are among "the Best UDMS papers for CEUS special issue" with their paper "Public Participation Comment Mark-up language and WFS 1.1"

 2005

 

Prof. Dr. B. Koch received together with her colleagues MM Rahmann and E. Clapovics the "Best Letter Award 2005" from Taylor&Francis and the Remote Sensing and Photogrammetry Society.